This page briefly describes the techniques used in early methodologies for valuing brands, along with some comments on their applicability today.
There are several methods for valuing brands currently in force, ranging from the simplistic to the sublime.
Early methods from the 1980s used a top-down approach. This was followed by a bottom-up approach that incorporated some of the detailed measurement metrics being developed by marketeers.
Early bottom-up approach methods, whilst dense with marketing metrics, could not in many cases make the link to Shareholder Value.
These methods eventually gave way to a combination approach (top-down, bottom-up) currently in use by finance professionals to measure the earnings valuations of the firm, and have become increasingly popular in brand management.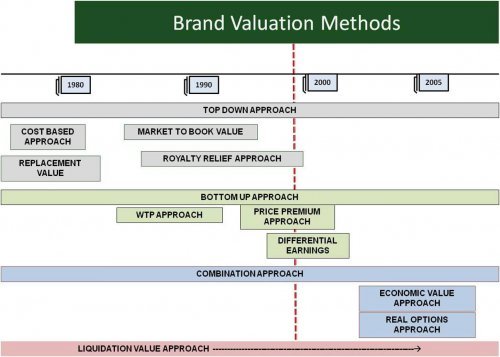 Some Popular Top-Down Approaches
Some top down approaches to valuing brands used for various reasons in the market are listed below (in no order of importance)…
Cost Based Approach
A simplistic approach that sums up all branding costs (capitalised and running) and represents this aggregate sum as brand value:
Sum of Branding Costs (Capitalised + Running) = Brand Value
This approach clearly does not address the value-generating ability of the brand. It is rarely used (if at all), in running companies.
Market to Book Value Methods
A simplistic description of these methods revolves around the solution of one of the following value equations:
Market Value – Book Value = Brand Value, or
Market Value – Adjusted Book Value (Equity) = Brand Value, or
Market Value – Book Value – Management Expertise (Intellectual Value) = Brand Value
The difficulty with this method is that other intangibles like specialised processes or licenses/innovation and even the architecture of the firm are considered to be part of the branded business. Version (3) above uses a methodology for putting a value on the 'human capital' of the firm.
Royalty Relief Approach
This approach assumes that the company has no brand and needs to license one. A study of comparable brands in the market place is undertaken and a royalty rate (percentage) is then charged on all future sales.
This method is used quite frequently with franchised organisations and is unquestioningly popular with the tax department, as it makes taxation easy to apply and collect.
This approach has some difficulties, not the least of which is the fact, that branding is about 'differentiation', and finding a comparable product or service in the market defeats the very positioning of the brand as a differentiated service.
Liquidation Approach
This approach is used for valuing brands in financial stress or in some mergers and acquisitions where the value generation ability of the brand has run its course. The standard formula generally used is:
Distress Sale (Brand) = Liquidation Brand Value
or
Distress Sale (Brand) + Known Growth = Liquidation Value
Some Bottom Up Approaches
Willingness to Pay Approach
This method uses the basic economic principle that 'Price' and 'Quantity' are determined by market forces of 'supply and demand', and that the role of the customer/consumer is expressed through their demand for the product e.g. a toy car with a 'brand' (Ferrari, Ford Mustang etc) is typically more expensive than a generic toy car with no brand).
This approach uses focus-groups of customers who are shown identical products (only differentiated by brand), who are then asked to choose the product they prefer, the price premium they would pay (in comparison to a generic brand), or the price discount they would demand for a non branded product.
The WTP is a calculated as a percentage premium that a branded product or service could charge.
The WTP approach has some issues, not the least of which is that suppliers sometimes do not choose to charge their customers a price premium. They could prefer keeping the price a little lower than the WTP and increasing market share instead. In other cases price and quantity may not be the only drivers of value.
See the following pages on this website for the bottom up and combination approach.
Allan Rodrigues of The Business Binnacle specialises in earnings valuations, contingent claim valuations and in managing performance (including brand management valuations). You can contact him at allan@theBusinessBinnacle.co.nz [no spam]
---
References
Voegele, Alexander, Sedimayr, Richard. (2007/8). Willingness to Pay: How the microeconomic tool box applies to brand valuation. Intl tax review 09587594.
Interbrand, (2007). Best Global brands 2007.
Interbrand (2004). Brand Valuation – The key to unlock the benefits from your brand assets. Interbrand, Zintzmeyer & Lux.
Fernandez, P. (2001) Valuation of Brands and intellectual capital. IESE Business School, Madrid Spain.
---
Next…